FHDH & UCWB PRESENT PRE-PREMIERE STRAIGHT OUTTA COMPTON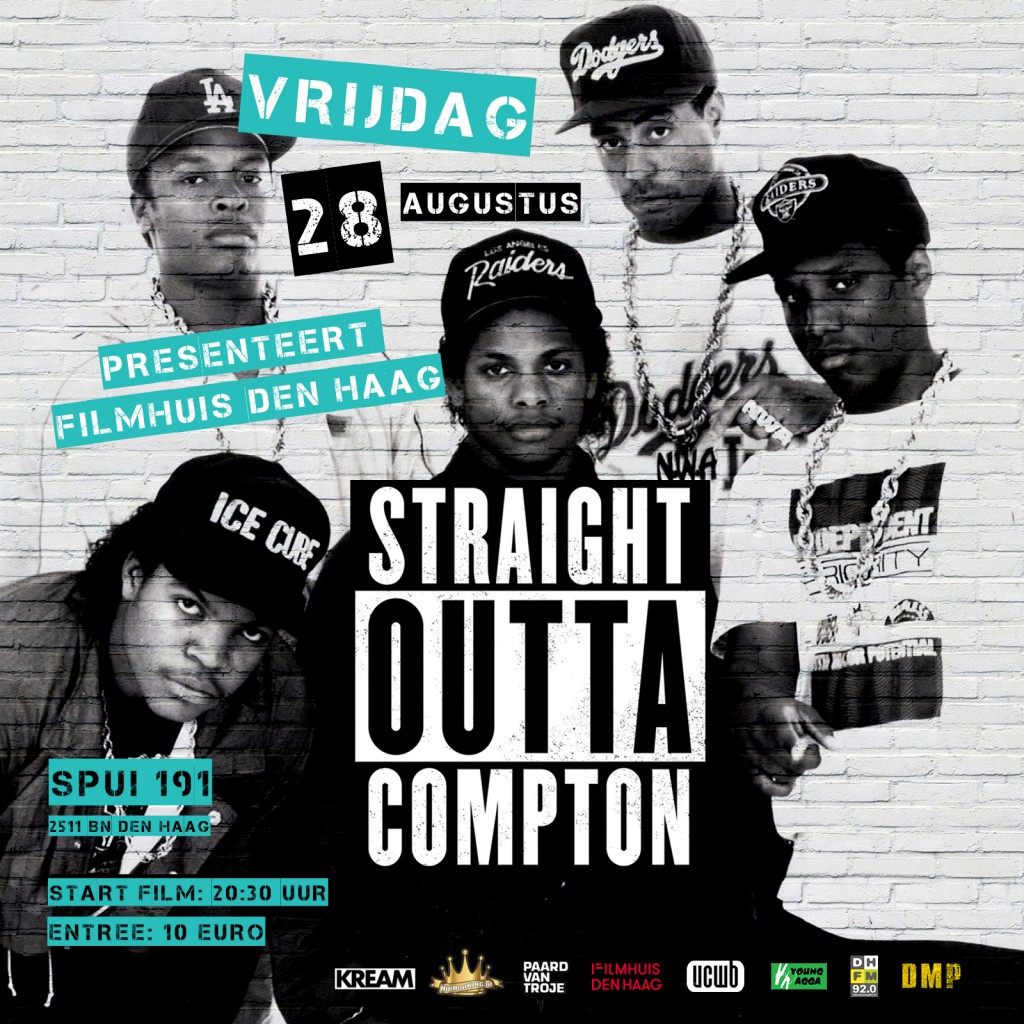 Troopers, your attention please! On Friday the 28th of August movie art spot Filmhuis Den Haag in collaboration with Urban Chicks With Brains present the pre-premiere of the high anticipated and iconic hiphop movie Straight Outta Compton. The movie starts at 20:30 pm with after drinks and music hosted by a hot Kream Fridays DJ. For tickets go to: www.FilmhuisDenHaag.nl.
After a successful first edition, showing the documentairy Nas: Time is Illmatic, we choose the gangsta rap biopic Straight Outta Compton. The movie tells the story of Dr. Dre, Ice Cube, Eazy-E, DJ Yella and MC Ren who formed the world most dangerous group N.W.A. (Niggaz With Attitude). In 1987 these 5 youngsters from Compton, Los Angeles used there heartfull lyrics and hardcore beats to express their frustation and neighbourhood reality  to create the most powerfull waponof that time: their music! With their music, attitude and talent they fought against the authorities who wanted to keep them under control. Their lyrics reflect their truth, reality and living envoriment in the hood, which costed a social revolution and still does in current society. Amongst O'Shea Jackson Jr., Corey Hawkins and Jason Mitchell translate the roles of Ice Cube, Dr. Dre and Eazy-E. The movie is directed by F. Gary Gray known of Friday, Set It Off and The Italian Job. Produced by Ice Cube and Dr. Dre, together with Matt Alvarez and Tomica Woods-Wright.
Official partners are: Filmhuis Den Haag, Urban Chicks With Brains, Kream Fridays, Paard van Troje, Young Agga on Den Haag FM, HiphopKing.nl and The Digital Music Paper. The website HiphopKing.nl will document this evening.