IT WAS ALL A DREAM! KREAM FRIDAYS: THE CLUBNIGHT TASTE OF GOOD MUSIC IN THE HAGUE
If you ask us, The Hague is one of the most challenging urban cities in this age to organize a regular and successful Hiphop and R&B event. Amsterdam has one, Rotterdam got one, so should that not mean that The Hague should have one too? This is all about to change. KREAM, since the 10th of April 2015 has become the weekly club night of The Hague! Every Friday you can enjoy dope music combined with friendly peeps, surprising themes and real entertainment. During KREAM you can expect the musical taste of Hiphop and R&B mixed with the best classics and upcoming future sounds! With a selection of the best DJ's on rotation like: Flava, Irwan, Abstract, Wantigga, Slick and more. The KREAM program show national and international talent and each edition assures a true experience. KREAM, your club night which stands for continuity, quality, fun and especially good music! We spoke with Sybrano, one the master minds behind KREAM Fridays.
Introduction
My name is Sybrano Elson, one of the owners of the organization Deep Journey. Deep Journey is a pioneering organization that believes in handling things with love. The organization is divided into several divions such as Artist Management, Media & Design and Events. Kream is a new concept of Deep Journey. I am mainly responsible for the programming, partnerships, sponsorships and marketing. Off course we work with a professional team to ultimately achieve a good result.
How did the idea of KREAM Fridays started?
Kream started out of love for The Hague. As an organization, Deep Journey organized many events in Amsterdam and Rotterdam. We noticed that a lot of people from the region of The Hague came to our events in these cities. As time flew by, people asked us why we always organized parties in Amsterdam or Rotterdam and not in Hague. Then we were like…yeah! Why not? The Hague is ready for renewal, stability, continuity and quality events. A concept created by and for the people from The Hague.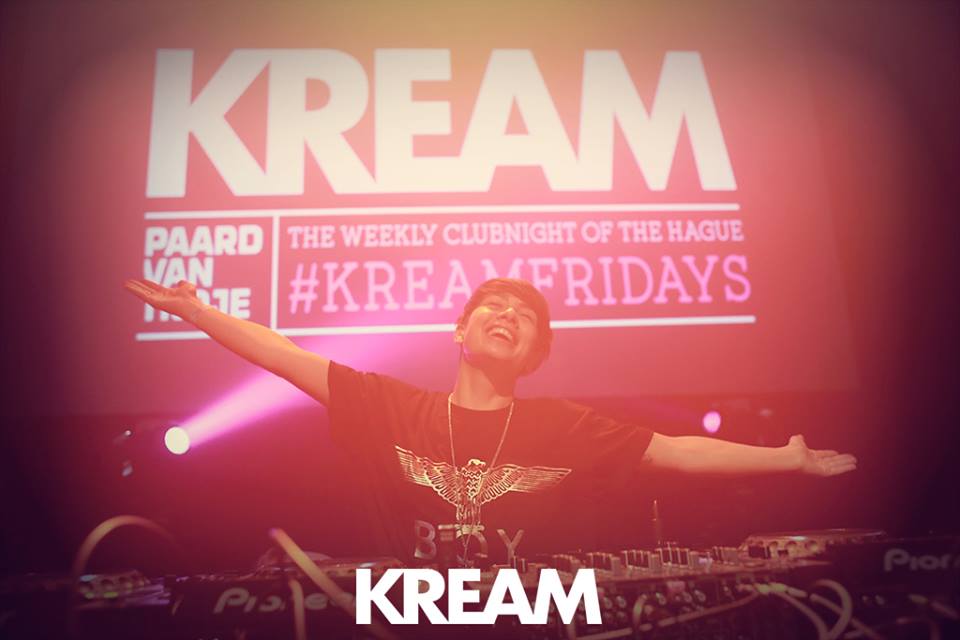 What motivated you to be part of this event?
The thing that motivated me the most were mainly the people from the area who really asked for an event like Kream Fridays. They gave me the drive to set this up.
What does it mean to the local Haaglanden urban scene to get this event scheduled?
Everybody is welcome and you know what to expect on Fridays. People from the region don't have to travel far to have a nice evening, they can come to Kream in Paard van Troje. It provides a new home for the community of The Hague.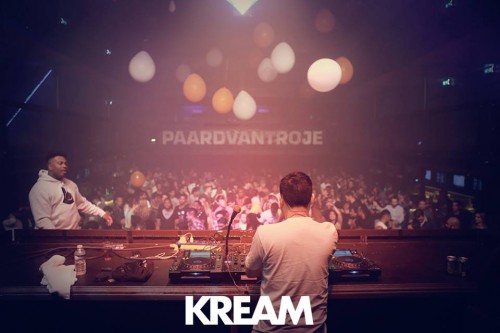 Give us a quick overview on what to expect during KREAM Fridays!
A pleasant and accessible evening with nice and friendly people, dope live acts from national and international artists, entertainment mostly organized by entrepreneurs from the region, unexpected themes and of course good music!
What kind of responds did you get since launching KREAM Fridays?
So far we only received positive reactions. People are really ready! Everyone from the region thinks it's time that The Hague has to be put back on the map.
What has been the most challenging/excited to convince people from Haaglanden to go clubbing on weekly bases?
There are a lot party people living in The Hague, Zoetermeer, Voorburg, Delft, Rijswijk and Leidschendam. Not always everyone wants to travel long distances to have a nice evening. A weekly club night is quite normal. You offer continuity to your visitors and people know what to expect every week. For example: why does it work in a city like Rotterdam, while The Hague and Zoetermeer together have more residents than Rotterdam? People need to open up for new, improved and innovative things. A wise man once said to me: "If you're open to new things in life, it makes your life a lot easier and more enjoyable."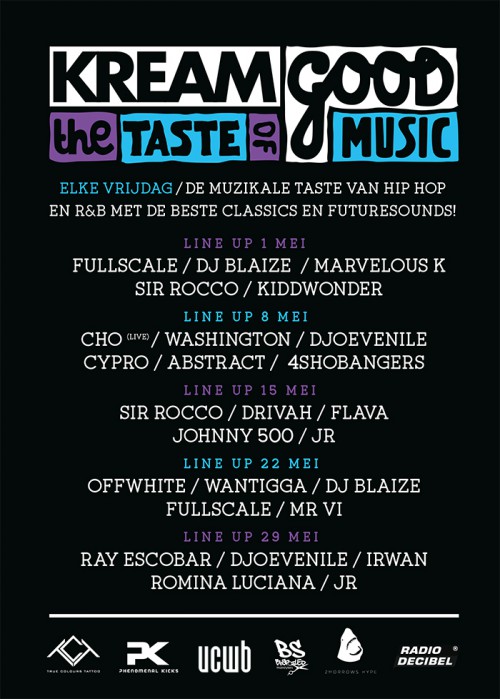 Could you share a little about why and when you are producing a special ladies edition of KREAM Fridays?
As I said earlier, we will occasionally work with different themes. One of them is a special ladies edition, where the ladies are being pampered. Are goal is to do this at least every 2 months. Naturally, we would like to achieve this with young entrepreneurs from the region. The first edition is with Daily Diva based in Zoetermeer and Urban Chicks With Brains based in The Hague. What you can expect, you will see by the end of the month.
You've got an unlimited budget. Describe your dream KREAM Fridays line-up!
If we would work with a crazy budget we would book dope international live acts such as Jhené Aiko, Big Sean, Major Lazor, Drake, Trey Songz, J. Cole, Kendrick Lamar, etc. These are just examples, but it might become reality and faster than expected ;-). I think The Hague is ready!
KREAM, the weekly nightclub of The Hague! The musical taste of Hip Hop and R&B mixed with the best classics and upcoming future sounds!